REDESIGNS & VISUAL BRANDING – GOOD, BAD & UGLY CASE STUDIES
GOOD
Successful branding transition, growing sales by over 10%
Electrasol research uncovered a strong association with stem glass and blue. However, these elements were not deemed to be strong enough to be brand identifiers. Instead they were important visual brand contributors to be used through brand transition.
BAD
Coke seasonal confusion because of inconsistent use of color.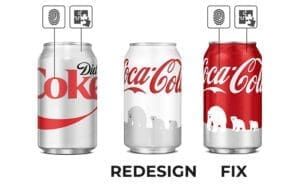 When Coke introduced its 2011 Christmas pack they didn't take into account the visual properties of their two iconic brands: the red can stands for regular Coke, the white can stands for Diet Coke.
UGLY
Tropicana sales dropped by 20% when this pack redesign hit the shelf.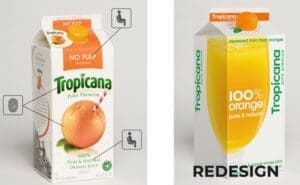 New design failed on many fronts. The most egregious fail was the complete elimination of the Identifiers – the word-mark and the orange with the straw. The chords of familiarity were completely severed.